A fabulous new direction in home design is that clients are much more likely to consider bolder color! I am ALL about this idea – even just a pop of color elevates a space. We've all seen the non-stop coverage of the Colors of the Year for 2019 from the paint companies. But I've gotta say that the terra cotta look from Sherwin-Williams will be a hard sell for some of my clients. And Metropolitan from Benjamin Moore is the gray we've already seen everywhere. Right?! As much as I love pinky-oranges, Living Coral from Pantone is also bright enough to really only work on pillows and accessories.
These trendy color pronouncements can drive designers crazy because they aren't real world. Our clients can be afraid of color – we need to give them great selections that are truly up-to-date and have some longevity. So what's a designer to do?! Try these color ideas for 2019, and beyond!
Go European
As some of you know, I'm now living part of the time in Europe with my husband who was transferred here. So many color trends start in this continent before they hit the U.S. The Europeans just have more confidence when it comes to embracing new ideas and trends. What the Europeans are seeing for 2019 home color trends were showcased in Milan. Greens and yellows were much more popular than any grays and oranges. Specifically, Neo-Mint was on everything from tabletop to textiles!
Here is the HEX for Neo-Mint:

and interpret it like this gorgeous mosaic tile from Ann Sacks– Or any way you want!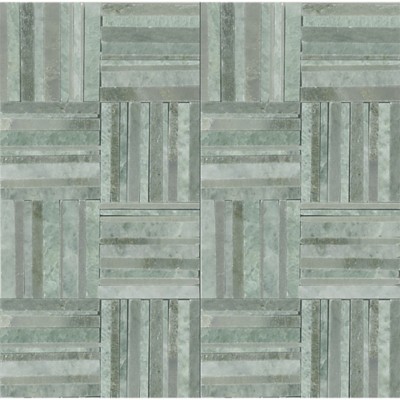 Fashionable
It's no secret that interior design trends start on the runways. So I love to look at the fashion shows and magazines for what's coming in color. Again, greens and yellows are proving more popular in the fashion world. Harper's Bazaar says Buttermilk Yellow will be the color to watch in 2019, which is a rich and creamy shade.
Look Back
History is ALWAYS repeating itself, especially in fashion. We saw a rise in the '70s, the '80s, and even a bit of grunge came back for a bit! And when the country is feeling unsettled, nostalgia is always in. The '50s are starting to get a new look for inspiration, and not for mid-century modern, but more kitsch looks like cherry red tables. Sherwin-Williams recently did a fun article on colors that were popular in each decade, and the '50s really showcases the colors that Europe and fashion are forecasting for this year. Those would be things like Sunbeam Yellow and Holiday Turquoise – which really looks minty!
So rather than following the trendy Color of the Year, use these sources for great classic ideas! You can also download my free Guide to Using Color to help you make the most of the hues you choose! Just click HERE!

Download Your Guide to Using Color
xoxo,
Kathleen